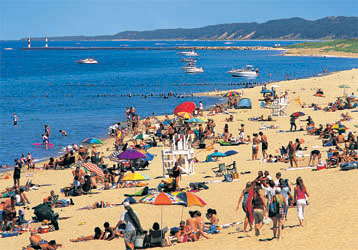 SAUGATUCK, MI (WKZO) -- A 46-year-old man and his 22-year-old nephew from eastern Michigan either didn't get the warning about rip- currents , or thought they could handle them if they stayed near shore. They were in Lake Michigan at Saugatuck Dunes State Park at about 2PM yesterday when high waves knocked them off their feet and they got sucked under.
Lt. Mike Larsen with the Allegan County Sheriff's Department says two other relatives and other swimmers tried to save them but couldn't. Rescue crews from the county, the state police and the Coast Guard were hampered by the same conditions that got the swimmers.
The rescue became a recovery operation that continued until dark. They will resume the search this morning.