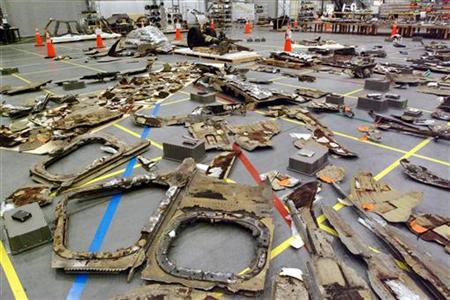 SAN ANTONIO (Reuters) - The prolonged drought in Texas has revealed what officials think may be a piece of the Space Shuttle Columbia, which broke apart over east Texas as it reentered the atmosphere in 2003.
Greg Sowell, a police sergeant in the city of Nacogdoches, which is located about 160 miles northeast of Houston, said the waters of Lake Nacogdoches, which are falling due to the record drought which has gripped the state, revealed an unexpected object.
"We found a large, about four foot diameter, round, what appears to be a tank of some sort," Sowell said today. "We have reason to believe this may be a part of the Columbia Space Shuttle."
Columbia broke apart upon re-entry into the atmosphere on February 1, 2003, killing the seven crew members on board. Debris from the spacecraft, which disintegrated over a wide area of east Texas, has been found in some 2,000 locations across eastern Texas and western Louisiana, including in Nacogdoches.
"Due to the drought, Lake Nacogdoches is at an approximately nine-foot low," he said. "There has been an unusually large area of the lake which is normally underwater which has been exposed."
(Editing by Greg McCune)