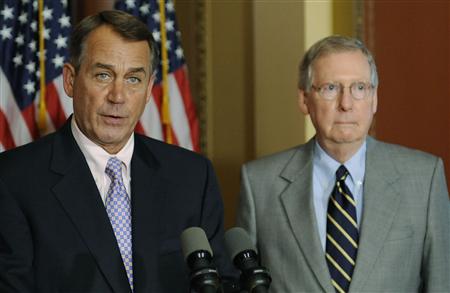 WASHINGTON (Reuters) - President Barack Obama said on Sunday that Democrat and Republican leaders had reached an agreement to reduce the U.S. deficit and avoid default, but it was not clear if the spending cuts were deep enough to stave off a credit rating downgrade.
The White House said the compromise would cut about $2.5 trillion from the deficit over the next 10 years but the reductions would not happen so quickly that they would drag on the fragile U.S. economy.
The deal would still have to be passed in the House and the Senate ahead of an Aug 2 deadline to avert a potential debt default.
U.S. S&P 500 stock futures bounced 1.5 percent and Asian stock markets climbed as much as 1.8 percent, while U.S. Treasuries futures slid. Gold and the yen also fell. The dollar was little changed against a basket of major currencies.
Credit rating agencies had indicated earlier that deficit-cutting measures of around $4 trillion would be enough for the U.S. to avoid losing its prized AAA rating. However, Moody's said on Friday that it may keep the rating unchanged but with a negative outlook, meaning there was still a risk of a downgrade in the medium-term.
COMMENTS:
JAMES PAULSEN, CHIEF INVESTMENT STRATEGIST, WELLS CAPITAL MANAGEMENT, MINNEAPOLIS
"For the market as a whole and for me as well this has been something from the get-go that we just have to get passed. This was a political issue not an economic issue. It is not about the solvency of the United States but politicians grandstanding.
"From the start the market reaction has been that it is not a big issue. I hope they do get it done tomorrow because my thought is that it could drag on to September.
"I think the market reaction is going to be fairly muted. I see a strong open up through the time they pass it and then the market moves on quickly to what does the U.S. economy do in the second half of the year? It won't take long because we have a big week with ADP on Wednesday, claims on Thursday and the jobs report on Friday. If they get this passed tomorrow we'll be onto other stuff.
"I'm fairly optimistic about the U.S. economy. We slowed down in the first half primarily because of the bad weather and the fallout from Japan's tsunami. These two things together took about 2 percent off this economy's growth. I think we are going to come back and grow 3- percent in the second half."
DAISUKE UNO, CHIEF STRATEGIST, SMBC, TOKYO
"The dollar is likely to remain on a weak footing even if the United States avoids a default or a downgrade. The two parties reaching an agreement might appear as a dollar supportive factor but it has negative implications for the currency considering it may mean waning influence for the Obama administration."
ANTHONY VALERI, FIXED INCOME STRATEGIST, LPL FINANCIAL, SAN DIEGO
"This will remove some of the panic in the market and we're likely to see a modest reversal of safe haven buying that benefited Treasuries last week. Still this deal has some moving parts and is not a blockbuster and any sell-off in Treasuries is likely to be limited. And keep in mind that reduced government spending is a negative for the economy which will provide some support to Treasuries. I expect the move in interest rates to limited near-term and investors will refocus on this week's top tier data for signs whether the economic soft spot has passed.
"This deal likely removes downgrade risk for Treasuries over the immediate future but a downgrade is still a significant risk over coming months and the remainder of 2011. The ratings agencies may not view this plan as going far enough to reduce the deficit and there remains some risk to implementing the various phases of this preliminary deal."
ROBERT BRUSCA, CHIEF ECONOMIST, FACT AND OPINION ECONOMICS, NEW YORK
"It makes the numbers grades but in three parts? It does not even approach the problem of the long-term deficits. It counts as 'new'savings some things that were in the works (military pullouts) but that are no policy change. It's a strange brew of 'cuts.'
"S&P seems willing to play along and roll the AAA ahead with a warning. Fitch seems to see this as political kabuki and not as an economic impasse. Moody' is the problem."
ANNETTE BEACHER, HEAD OF ASIA-PACIFIC RESEARCH, TD SECURITIES, SINGAPORE
"It seems that the government is fairly confident that they have done enough to avoid technical default. However, I am not sure this will be enough to remove the negative outlook. I don't think it is necessarily a done deal that the ratings agencies will accept this programme to avoid an eventual downgrade. At the moment, it's clearly 'risk on' for markets, but should we see S&P reiterate a negative outlook, then we'll be back to biting our nails for a little bit longer.
"Avoiding a default was necessary but in order for the reversal to be sufficient, we need slightly bigger numbers."
HONG TAEG-KI, HEAD OF RESERVE MANAGEMENT GROUP, BANK OF KOREA, SOUTH KOREA'S CENTRAL BANK, SEOUL
"The proposed deficit cut appears smaller than what the S&P has said would be sufficient for the United States to avoid a ratings cut, and so it's premature to say the debt ceiling deal would prevent a ratings cut."
"There seems to be some difference of opinion remaining between political parties over details on cutting the deficit and their dispute could continue as the country is heading into an election year."
"A ratings cut, say to AA, will not itself cause a big problem for existing holders including central banks and sovereign wealth funds and there is no perfect alternative (to U.S. Treasury debt). Central banks will continue their efforts to diversify their reserve assets but they will not be able to quicken the pace of diversification only because of (a possible ratings cut in the U.S.)."
MICHAEL WOOLFOLK, SENIOR CURRENCY STRATEGIST, BNY MELLON, NEW YORK
"This looks like a short-term fix and we don't have a long-term solution put in place, which is really what the rating agencies were looking for. The fact that the debt ceiling has been raised is independent of their action. If they do downgrade that would be a negative for the dollar. We could see the euro/dollar back up as far as $1.50.
"Come Monday morning U.S. equity markets should respond favorably to these developments but the dollar should come under some selling pressure. There is the negative correlation between the stock market and the dollar going back to the Lehman crisis and this reverts back to the carry trade when the Fed took interest rates back to zero.
"We'll get some more details as the week rolls on. For the time being the outside risk of a technical default is off the table and should provide some degree of comfort for the market."
MOHAMED EL-ERIAN, CO-CHIEF INVESTMENT OFFICER AT PIMCO, NEWPORT BEACH, CALIFORNIA
"Look for a relief rally as markets react favorably to the removal of the specter of a debt default by the most powerful economy in the world.
"For the rally to be durable, markets will need more than this downpayment agreement. They will look to a more coherent fiscal reform to emerge from the second step and, more generally, for additional measures to remove structural impediments to growth and jobs. Markets will also be asking whether this two-step agreement is sufficient to remove the threat of an S&P downgrade."
THOMAS LAM, GROUP CHIEF ECONOMIST, OSK-DMG, SINGAPORE
"The focus will now shift to the impact of the fiscal squeeze in the pipeline on the slowing U.S. economic recovery and the response from ratings agencies and markets to this deal from earlier concerns on whether they would be able to meet the August 2 deadline. This is a relief rally as earlier there were lots of concerns surrounding the inability to meet the deadline but now we must wait and see whether this is sustainable."
JEFF GRILLS, CO-HEAD, EMERGING MARKET DEBT PORTFOLIOS AT GRAMERCY HEDGE FUND, GREENWICH, CONNECTICUT
"For the most part emerging market debt should do better, but the reality is it hasn't done that badly over the past few weeks. I don't think you'll see a huge rally but a better tone in the market will mean the higher beta names such as Argentina or Venezuela will perform pretty well. At the margin, emerging corporates will do well, but performance improves likely as you move down the credit spectrum. That means high yield will outperform investment grade credits."
IRA JERSEY, INTEREST RATE STRATEGIST, CREDIT SUISSE, NEW YORK
"It's not dissimilar to the Boehner plan, I think it has a reasonably good chance of passing the House. It's a little light on cuts, so the risk of downgrade is still a little high. That's the next market moving headline you could see. Our thinking is it needs $3 trillion in cuts to avoid a downgrade by S&P so there is still a high probability of a downgrade, but this will avoid a fiscal shock.
"Risky assets are likely to do pretty well, but that may be temporary. At the end of the day this brings back the need to focus on fundamentals, Europe still has problems and in the US growth momentum is still poor. We would be better buyers of dips in rates."
KATHRYN ROONEY VERA, MACROECONOMIC STRATEGIST, BULLTICK CAPITAL MARKETS, MIAMI
"Definitely there will be a positive market reaction and equity futures are already trading higher ahead of that. Keep in mind that this deal has to pass both the House and the Senate. I think it will pass, but there are still more ideological factions within the parties that have a problem with the deal that has been reached.
"There are significant spending cuts in the plan, but a lot of them are put forward into the future. But the backbone of the plan is to cut spending.
"If the U.S. looks stronger, the dollar is going to be stronger.
"The next question is, was this enough for the ratings agencies? The ratings agencies have said they want $4 trillion. This is almost $3 trillion. Will they look for more progress down the line or revenue generation or will they go ahead with the downgrades anyway?
"If there is a downgrade, if they went ahead with it, I see an immediate drop for equities in the 3 to 4 percent range. For Treasuries in the event of a downgrade, regardless of this plan, I don't think they would face too difficult of a time because at the end of the day they are the safe haven for the world.
"In the event of a downgrade, equities react negatively but not a huge sell-off in Treasuries.
BACKGROUND
-- S&P had warned on July 14 that there was a one-in-two chance it could cut the U.S. credit rating in the next three months if talks on raising the debt ceiling and cutting spending remained stalemated.
Moody's and Fitch had also said they will downgrade the U.S. credit rating if failure to raise the nation's $14.3 trillion debt ceiling left the Treasury without cash to service its debt obligations.
-- The U.S. Treasury warned that it could not guarantee payment of all of the government's bills after Aug 2 without an increase in the federal borrowing limit. But it never specified a date for when the government would actually start to miss payments on its debt or other bills.
-- Republicans had repeatedly rejected Democrats' suggestions that a new deal should include both spending cuts and revenue raising measures such as tax increases for the wealthy. Some Democrats, meanwhile, had resisted any suggestion of deep cuts to popular social programmes.
-- Some major bond fund managers have asked their institutional clients to consider waiving strict requirements that might force mass selling of Treasury bonds if the United States loses its AAA rating.
Pension funds, endowments and other large investors typically establish rules governing how their assets can be invested when they sign on with a money manager. Some analysts fear a downgrade of the U.S. rating would spark a mass sell-off because of guidelines that only permit investments in AAA-rated securities.
(Contributions by Reuters bureaus worldwide; Compiled by the Asia Economics and Markets Desk)