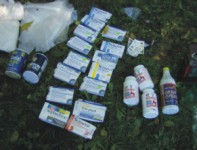 STRUGIS TOWNSHIP (WKZO) -- A fatal fire just west of Sturgis may have been caused by a meth lab.
The St. Joseph County Sheriff's Department reports it happened early Monday in the 69,000-block of Elaine Manor in Sturgis Township.
Deputies were called around 1:40am when the deceased victim was located. The state police fire marshall was also called to the scene to verify whether it was a runaway meth lab that sparked the blaze.
The victim's name is being withheld until positive identification can be made by pathologists.