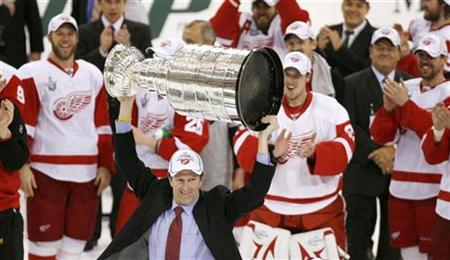 DETROIT (Reuters) - After winning a Stanley Cup and an Olympic gold medal, Mike Babcock earned a little job security Monday when the Detroit Red Wings rewarded their coach with a four-year contract extension.
"We basically had two options, one we could move on at the end of the year or remain here and negotiate a deal," Babcock told reporters.
"We're thrilled to be staying...we're happy here. The reality is we've done a ton of winning here."
A free agent at the end of the current season, Babcock certainly would have attracted plenty offers if he had decided to test the open market.
In his sixth season with the Wings, Babcock has compiled a 259-101-52 record while taking Detroit to back-to-back Stanley Cup finals, winning it all in 2008 and coming within one win of defending the championship the following season.
His teams have posted five consecutive 100-point seasons, twice claiming the Presidents' Trophy as the NHL's regular-season champion (2006, 2008).
The 47-year-old Canadian is the first NHL coach to guide his team to four consecutive 50-win seasons in his first four seasons with a team, leading the Red Wings to 58 victories in 2005-06, 50 in 2006-07, 54 in 2007-08 and 51 in 2008-09.
It was that sparkling resume that earned Babcock the job as head coach of the Canadian men's gold medal-winning hockey team at the 2010 Vancouver Winter Games.
Babcock also helped Canada to a gold medal at the 2004 world championships, becoming the first coach in the Triple Gold Club, winning a Stanley Cup, Olympics and world championship.
(Writing by Steve Keating in Toronto, editing by Steve Ginsburg)