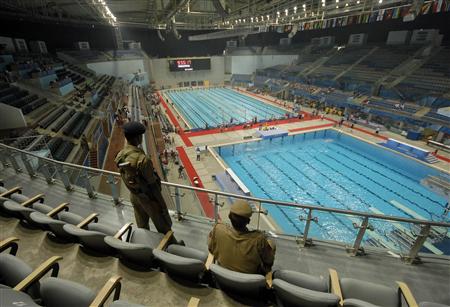 By Nick Mulvenney
NEW DELHI (Reuters) - After weeks of headlines dominated by the calamitous preparations for the Delhi Commonwealth Games, some 4,700 athletes will finally get down to the business of bidding for sporting glory on Monday.
Filthy conditions in the athletes village, collapsing bridges along with health and security concerns have added to an already long list of high profile absentees, however, and robbed the "friendly games" of a little more luster.
Athletes from 71 mainly former British colonies, ranging in size from Canada and Australia to the tiny islands of Jersey and Niue, will compete for 272 gold medals in mostly Olympic sports along with the likes of squash, netball and lawn bowls.
Monday's first action will be in the swimming pool, where teams from Australia, England, South Africa and Canada will add a sheen of real international class to the event.
Australia have topped the medals table at 10 of the previous 18 Games, including on home soil in Melbourne four years ago when their swimmers contributed 53 of their 222 medals.
Three-times Olympic champion Leisel Jones returns in the hope of adding to her haul of seven Commonwealth Games titles but expects a stronger challenge from rival nations this time around.
"It is certainly not going to be as easy this year as it has been in the past," she said on Saturday. "The Commonwealth Games this year is actually very strong."
England finished second in the medals table in Melbourne and are hoping to use the Games as a springboard to British Olympic success at London 2012.
EXTRA SPICE
Beijing Olympic freestyle champion Rebecca Adlington is the biggest name in the England team and her team mate Fran Halsall said the traditional rivalry with the Australians added a little extra spice to the competition.
"It gives me more pleasure to beat the Aussies," she said. "It's always a bit sweeter to beat them in the pool."
Athletics has suffered more than most sports from the absence of the big names, starting with Jamaica's world and Olympic sprint champion Usain Bolt early in the year and concluding with Olympic long jump silver medalist Khotso Mokoena refusing to board a plane from South Africa on Thursday.
Jamaica's athletics team, which dominated the sprints four years ago, is one of the weakest for an international competition for many years with Bolt's rival Asafa Powell also skipping the trip to India.
Kenya are without 800 meters world record holder David Rudisha but have enough quality to maintain their grip on the middle and long-distance events, while Australia's Olympic champion Steve Hooker should win the pole vault with ease.
Indian hopes of a bumper medal tally to improve on their fourth place in the medals table in Melbourne are unlikely to be boosted on the track or in the field at the Jawaharlal stadium.
Dead-eyed shooters like Olympic champion Abhinav Bindra, a bevy of hopeful boxers and hulking weightlifters will champion the local cause, while Sania Mirza and doubles specialists Leander Paes and Mahesh Bhupathi should go deep in weak tennis draws.
Malaysia, the only other Asian country to have hosted the Games, will be banking on two world number ones for a couple of gold medals -- Lee Chong Wei in men's badminton and Nicol David in women's squash.
Rugby sevens is one event with a truly top class field and a New Zealand team boasting four All Blacks will need to be at their best to retain the title.
Fijian flare will be missing from the Delhi University pitch after the country was suspended from the Commonwealth last year for failing to meet a deadline on holding general elections but Rwanda makes its debut after joining the grouping last year.
(Editing by Sonia Oxley)