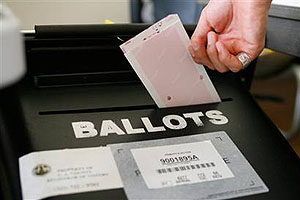 MADISON, Wis. (WTAQ) - Wisconsinites can start voting Monday in the upcoming general election.
That's when municipal clerks will start letting people vote absentee. You used to need an excuse for being away on Election Day to get an absentee ballot. But Wisconsin stopped requiring that in 2000, and the number of early voters has grown steadily since then.
More than 1 of every 5 Wisconsin voters cast early ballots in the 2008 presidential election. The major political parties encourage early voting, so their candidates get votes in the "can" before Election Day.