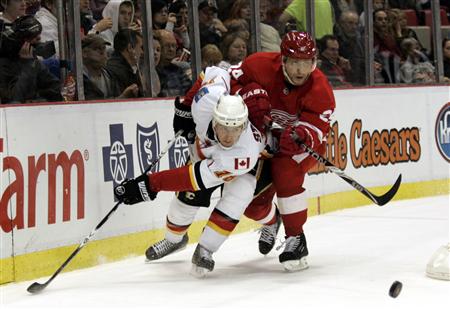 DETROIT (Reuters) - Henrik Zetterberg scored with four seconds left in regulation and Nicklas Lidstrom got the game-winning goal in overtime to lift the Detroit Red Wings to a 5-4 comeback victory over the Calgary Flames on Sunday.
Trailing 4-2 midway through the third period, Zetterberg scored his first of the game to pull Detroit to within a goal before netting the equaliser on the power play with a snapshot that beat Calgary goalie Miikka Kiprusoff.
"That's a big two points for us," Wings coach Mike Babcock told reporters. "It looked like we were getting nothing and we ended up getting two points."
Red-hot Jarome Iginla, coming off a three-goal performance against the Chicago Blackhawks on Friday, scored twice in the second period to give Calgary a 3-1 lead.
Detroit narrowed the gap when Pavel Datsyuk scored early in the third but Alex Tanguay restored Calgary's two-goal lead.
Kiprusoff made 33 saves for Calgary (8-10-1) but could not hold off the Red Wings (13-3-2), who won for the fifth time in six games.
Detroit opened the scoring about two minutes into the first period on a snap shot from Johan Franzen but Calgary's Niklas Hagman tied the game less than four minutes later.
Red Wings netminder Jimmy Howard made 23 saves in the win and Detroit ended a six-game home stand with a 5-0-1 record.
Calgary has lost eight of its last 10 games and is second to last in the Western Conference.
"We've got to be smarter and we've got to find ways to stay away from the penalty box," Tanguay said. "We're up 4-2; we had a chance to bury them and take care of our destiny and we didn't. Not much else you can say."
(Writing by Jahmal Corner in Los Angeles; Editing by Frank Pingue)