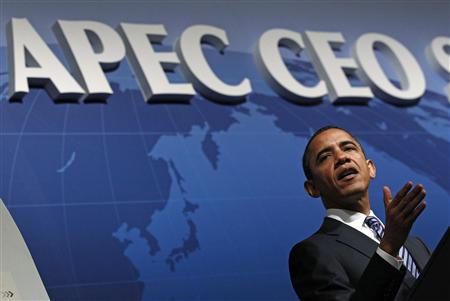 By Linda Sieg and Jonathan Thatcher
YOKOHAMA, Japan (Reuters) - Asia-Pacific leaders were set on Sunday to embrace plans for balanced growth and free trade in the world's fastest growing economic region, but signs of discord resurfaced over how best to ensure global recovery.
A vague agreement two days earlier among G20 advanced and emerging countries gave little sense of a united approach to preventing further economic crises, the threat of which was underscored by the likelihood that Ireland will have to seek emergency funding because of debt concerns.
Leaders of the 21-member Asia-Pacific Economic Cooperation (APEC) forum will pledge to start work on a vast regional free trade area linking the world's three biggest economies -- the United States, China and Japan -- with some of the world's fastest-growing economies.
APEC is championing a collective growth strategy, emphasizing balanced and sustainable growth, but the goal is likely to prove elusive given deep divides among advanced and emerging economies that were papered over at a G20 summit in Seoul late last week.
Those cracks were on display in the Japanese port city of Yokohama, where Washington and Beijing returned to their contradictory positions on trade and currency.
The United States argues that the global economy can only recover if its own economy is on the mend, which requires a surge in exports. It has singled out China and its strong yuan as being a major barrier to that goal.
President Barack Obama, at the start of the APEC gathering on Saturday, warned countries such as China against relying too much on exports for growth.
Chinese President Hu Jintao countered that Beijing was committed to exchange rate reform, but that it would be gradual.
APEC leaders agreed after a first round of talks on Saturday that the world economy was improving but still fragile, a Japanese government official said.
Sovereign debt problems remain a risk, while unemployment and the financial sector continue to be of concern, he said.
SECURITY STRAINS
Regional security strains have also simmered beneath the communal goodwill at APEC.
Japanese Prime Minister Naoto Kan met his Chinese and Russian counterparts on Saturday in a bid to soothe ties frayed by territorial rows.
Kan met Hu for their first formal talks since a feud flared up in September over wind-swept isles in the East China Sea that are claimed by both countries and are near potentially vast maritime oil and gas reserves.
Sino-Japanese ties have soured since Japan detained the captain of a Chinese fishing boat that collided with Japanese patrol boats near the disputed islands, risking fallout for trade and investment links between Asia's two biggest economies.
A Japan official called the 22-minute meeting a "big step toward improvement," but domestic media were less enthusiastic. The Yomiuri newspaper said the chat had simply avoided the "worst-case scenario" of yet another snub by China.
Kan also met Russian President Dmity Medvedev in an effort to thaw a chill after the Russian leader visited one of the islands north of Japan that are claimed by both Moscow and Tokyo.
The two countries' foreign ministers agreed to improve ties, but in a sign strains remained, Medvedev urged Japan to abandon its "emotional stance" on the issue and talk business instead.
(Editing by Bill Tarrant)