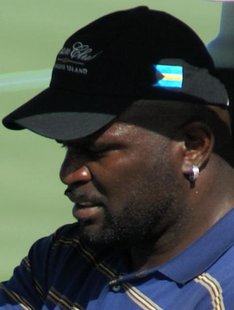 RAMAPO, NY (WTAQ) - Former New York Giants linebacker Lawrence Taylor has been arraigned in a Ramapo, New York, court on charges of third-degree rape and patronizing a prostitute.
Taylor watched impassively as his attorney opposed a prosecutor's request for bail of $100,000. The judge set bail at $75,000.
Police claim Taylor assaulted a 16-year-old girl and paid her $300 after she was brought to him by Rasheed Davis, a 36-year-old New Yorker. Davis has has also been arrested.
The 51-year-old Hall of Famer was taken into custody early Thursday morning as police investigated a reported rape at a hotel in Suffern, New York.