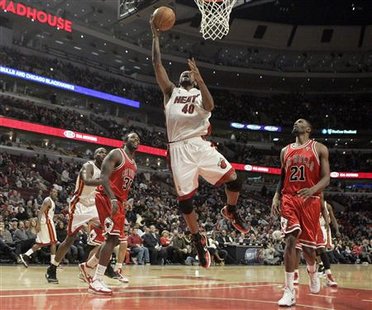 CHICAGO (Reuters) - The Miami Heat put a serious dent in Chicago's playoff prospects with a resounding 103-74 victory on Thursday.
Jermaine O'Neal scored 24 points while Dwyane Wade was the team's playmaker with 12 points and 10 assists as the Heat (38-34) built a 30-point halftime lead and moved into sole possession of sixth place in the Eastern Conference.
"We knew how they were going to try to defend us and put a lot of guys on me so I made easy plays and it became contagious," Wade told reporters.
Wade acknowledged that he had previously struggled to play well in his hometown Chicago.
"Today I decided to slow down and play like I would anywhere else."
The defeat dropped Chicago 2 games behind the eighth-placed Toronto Raptors with 11 regular season games left.
The Bulls, who came into the game winners of two in a row following a 10-game losing streak, were boosted by the return of Derrick Rose (wrist) and Joakim Noah (foot).
However, Chicago (33-38) shot a woeful 33 percent from the field with Hakim Warrick leading team in scoring with 14 points from the bench.
The Bulls' decision to double-team Wade early on backfired as the Heat scored 31 points in the first quarter.
Michael Beasley finished with 15 points and Udonis Haslem had 14 to give the Heat their third win in a row.
"We're playing very good ball and I think we've finally found our identity," O'Neal said. "We've been doing this for the last month or so that's why our record is that way."
(Reporting by Jahmal Corner in Los Angeles; Editing Peter Rutherford and John O'Brien)