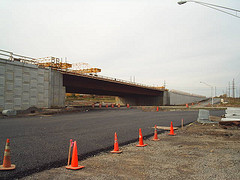 KALAMAZOO (WKZO) -- As west Michigan transitions from the winter season to the pothole season, and then on to construction season, M-DOT crews will be out on I-94 and U.S. 131 at night, filling in potholes and sealing cracks before they become potholes. They won't be closing any lanes but they may be blocking a few as they work their way up and down the divided highways.
The largest and perhaps most disruptive road project Kalamazoo County will see in years will begin in just a few weeks when I-94 will be rebuilt through Portage and the Westnedge interchange will be replaced.
Portage City Manager Maurice Evans says the dates have been set for the demolition of the bridge on the north side of that intersection, late on the night of April 24th. On June 20th, Westnedge will be closed again during one over night to install overhead beams.
They hope that weather permitting, those will be the only times they will have to completely close the busy north-south connector between Kalamazoo and Portage, but their will likely be lane closures at other times. The project will take two seasons to complete. Next year they will do it all over with the other bridge.