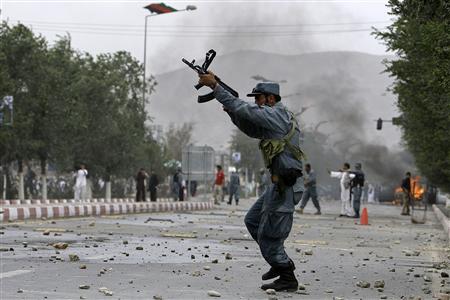 KABUL (Reuters) - Afghan police fired shots on Friday to disperse hundreds of people protesting the deaths of civilians in an accident involving a U.S. embassy vehicle, police said.
A police official at the scene said four Afghan civilians were killed in the accident in the capital Kabul, while the U.S. embassy said there were fatalities and serious injuries.
"According to our report, six Afghan civilians were involved in this incident and four of them have already died," head of police criminal investigation, Sayed Abdul Ghafar Sayedzada, told reporters at the scene.
"We have also been informed that there were fatalities and serious injuries among the Afghans involved in the accident and we refer you to the Afghan authorities for more details," the U.S. embassy said in a statement.
The accident, near the Masood Circle landmark in the airport/diplomatic area, sparked anger among local residents who torched two embassy cars and pelted police with rocks when they tried to intervene.
Civilian casualties caused by foreign troops in Afghanistan is one of the most sensitive issues between the government of Hamid Karzai and its foreign backers and has sparked violent street protests in Afghanistan in the past.
President Karzai has repeatedly asked international troops to do whatever it can to protect civilians during their military operations against the insurgents
(Reporting by Yousuf Azimy; Editing by David Fox and Sanjeev Miglani)