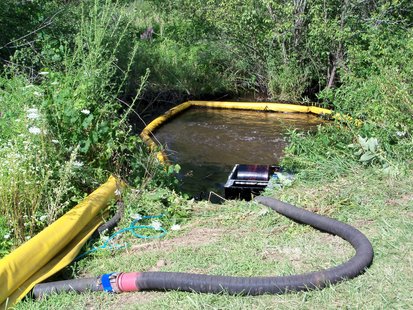 MARSHALL -- Work has begun and efforts continue to mitigate environmental damage from the oil spill in Calhoun County, a job that may take months. Kalamazoo County Board Chair Dave Buskirk was among those who gathered to evaluate what response needed to be taken by various coordinating agencies. He says that while the spill is bad, everyone is perhaps a little more sensitive to it in light of the recent BP disaster in the Gulf of Mexico.
Congressman Fred Upton who surveyed the impacted area yesterday says they plan is to use the booms to channel the oil slick to the side of the river where it can be captured by a vacuum truck.
He says if a series of these booms are set, it should capture most of the oil. The original plan was three booms, but that has since been increased to ten before it gets to Morrow Lake.
Environmental agencies and Enbridge Energy are warning people not to try and clean off wildlife who have been covered in oil from the spill.
Lisa Williams with U.S. Fish and Wildlife Service says they are setting up a clean up operation for animals today.
Mary Detloff with the DNRE says they appreciate that many people want to help, but she says the experts have the best tools to do so.
If you see an animal that needs help, or have any other health concern, they have set up a 1-800 number for you to call.
Its 1-800-306-6837.
So far there have been a few dozen reports of animals covered in oil, but officials expect there will be more.