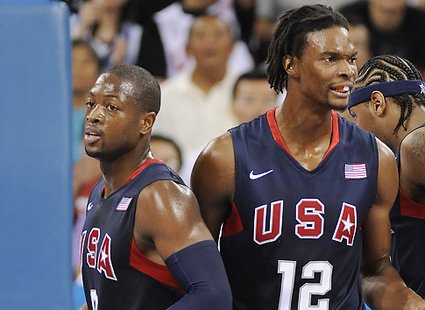 FORT LAUDERDALE, Fla. (WTAQ) - Dwyane Wade will stay with the Miami Heat, and forward Chris Bosh is joining him.
The two announced the move on ESPN Wednesday morning. Wade also told the network he didn't know if LeBron James would join them in South Florida.

Wade has spent his career so far with the Heat, while Bosh has been with the Toronto Raptors to this point. Both players have been in the league for 7 years.
Wade has career averages of 25.4 points, 6.6 assists and 4.9 rebounds with the Heat and led the team to the NBA title in 2006. Last season, he averaged 26.6 points, 6.5 assists and 4.9 boards over 77 games.
Bosh had career-highs with 24 points and 10.8 boards per contest in 2009-10. For his career, he averages 20.2 points, 9.4 rebounds and 2.2 assist per game.

James will announce his intentions for the future on the network Thursday night. The 25-year-old James has spent his entire 7-year career with the Cleveland Cavaliers, but the Heat, New York Knicks, New Jersey Nets, Chicago Bulls and Los Angeles Clippers have all spoken to him in the last week.
James won his second straight MVP award after averaging 29.7 points, 7.3 rebounds and 8.6 assists in 76 regular-season games last season.