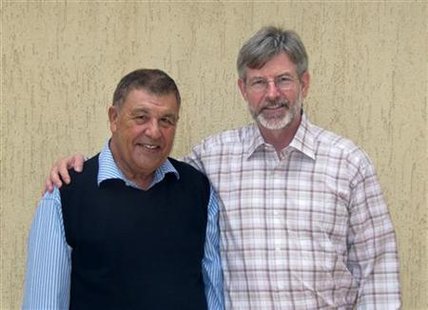 TRIPOLI (Reuters) - A Libyan court on Saturday postponed until January 30 the trial of Max Goeldi, one of two Swiss businessmen whose prosecution is at the center of a diplomatic row between Libya and Switzerland, their lawyer said.
The case of the two men has led to accusations in Switzerland that the government there has mishandled the affair, and it has unsettled some of the foreign investors who flocked to Libya after it emerged from international isolation.
The two men were barred from leaving Libya in July 2008 after Swiss prosecutors briefly arrested Hannibal Gaddafi, a son of Libyan leader Muammar Gaddafi, on charges of mistreating two domestic employees during a visit to Switzerland.
The charges were later dropped but Libya cut oil supplies to Switzerland and withdrew more than $5 billion in assets from Swiss banks. Libyan officials deny any connection between the arrest in Switzerland and the case of the two men.
In Saturday's hearing, the judge trying Goeldi on charges of violating business regulations ordered the adjournment because the defendant did not appear in court, the lawyer said.
"The trial has been postponed until January 30," lawyer Salah Zalaf told reporters.
The trials of both men had already been postponed twice, on each occasion because they failed to appear in court. They have been staying at the Swiss embassy in Tripoli, where the Libyan authorities have no jurisdiction.
The lawyer said he had passed on to Goeldi verbal assurances from the court that he would not be detained if he attended the court hearing. "He refused because he is requesting written guarantees," the lawyer said.
A court is scheduled to resume the trial of the second Swiss businessman, Rachid Hamdani, on Sunday. He has been charged with the same offences as Goeldi.
Both men have already been convicted on separate charges of violating Libya's immigration rules and sentenced to 16 months in prison. Amnesty International said their convictions did not meet international standards for fair trial.
Goeldi is the head of Libya operations for Swiss-Swedish engineering group ABB, and Hamdani works for a construction company.
In a failed attempt to win the men's release, Swiss President Hans-Rudolf Merz flew to Libya in August last year to apologize personally for Hannibal Gaddafi's arrest.
(Reporting by Salah Sarrar; Writing by Christian Lowe; Editing by Louise Ireland)