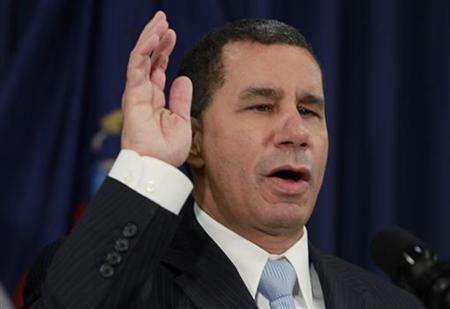 By Daniel Trotta and Edith Honan
NEW YORK (Reuters) - New York Governor David Paterson on Saturday halted a controversial form of natural gas drilling in the state until July and ruled no such drilling take place until environmental regulators deem it safe.
The industry and environmentalists -- normally rivals on the issue -- both applauded Paterson's executive order, which stops all horizontal, high-volume hydraulic fracturing, or "fracking," while calling for further study of that method's impact on drinking water.
The state Department of Environmental Conservation will conduct a "comprehensive review an analysis," Paterson said.
At the same time, he vetoed a bill passed by the state legislature that would have placed a moratorium on fracking plus all conventional, low-volume, vertical oil and gas drilling until May 15.
The order allows conventional drilling to continue, that designated for low-volume or vertical oil and gas wells.
While neighboring Pennsylvania is experiencing a gas drilling boom with widespread fracking in the multi-state Marcellus Shale formation, New York state has been more cautious, saying the economic benefits must be weighed against environmental concerns.
For an index of shale gas companies, double-click on.
Paterson leaves office at the end of the month and opponents and proponents will lobby his successor, Governor-elect Andrew Cuomo, a fellow Democrat, who is due to be sworn in January 1.
CONVERSION FEARS
High-volume hydraulic fracturing involves blasting millions of gallons of water, sand and chemicals into deep shale rock to free the gas trapped inside.
Fracking has unlocked vast potential for a relatively clean energy source that would reduce U.S. dependence on foreign oil. The Marcellus Shale alone could meet all U.S. natural gas demand for decades.
A coalition of 12 environmental groups said Patterson's move protects public health and drinking water supplies. But they said it also creates a loophole by allowing other forms of onshore drilling.
Environmental groups fear gas drillers will immediately convert vertical wells into horizontal wells, should regulators approve fracking.
"Governor Paterson has signaled that he understands fracking is a dangerous process that poses serious health and environmental threats. ... Unfortunately, Governor Paterson issued this order while simultaneously vetoing a stronger bill passed by overwhelming bipartisan majorities in the New York State Senate and Assembly," the coalition said in a statement.
The natural gas industry had vigorously opposed the moratorium passed by the legislature, saying it would have halted most oil and gas drilling currently allowed in addition to high-volume fracking.
The Independent Oil and Gas Association of New York praised Paterson, saying the bill he vetoed would have "put the future of thousands of workers and hundreds of employers in jeopardy."
"We are very pleased that the governor saw the bill for what it was -- a flawed piece of legislation replete with unintended and dire consequences for the people and businesses in our industry," association Executive Director Brad Gill said in a statement.
(Reporting by Daniel Trotta and Edith Honan; Editing by Xavier Briand)