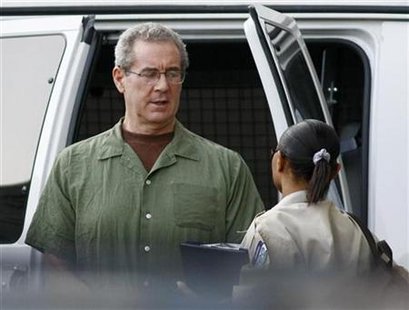 HOUSTON (Reuters) - Allen Stanford, accused of leading a $7 billion Ponzi scheme, is on so much medication that he is unable to prepare for his upcoming trial, his lawyer said in a motion seeking his client's release from jail.
Stanford was attacked by a fellow inmate in September 2009. The fight left him with a concussion, traumatic brain injury and multiple broken bones in his face, according to court documents.
Since the attack and his incarceration, Stanford has been prescribed medications that were listed in a sealed exhibit as part of his lawyer's motion for bond.
"These medications have left Mr. Stanford in an unfocused and numbed state of mind," his attorney, Ali Fazel, wrote in a filing on Monday, adding that the medication and injuries suffered in the fight "have created a conditions where the accused can no longer assist counsel or invoke basic constitutional rights."
The drugs would also interfere with Stanford's right to testify at his trial, which is scheduled to begin on January 24, his lawyer said.
The type and dosage of medications would require "a medically supervised period of time to recover" from and Stanford was not on any medication prior to his incarceration, the filing said.
Prosecutors oppose Stanford's motion for bond.
Stanford, who has pleaded not guilty to a 21-count indictment, has been in jail since June 18, 2009. A number of efforts to have him released have been rejected.
The once-high flying billionaire is charged with bilking thousands of investors in a scheme involving certificates of deposit issued by his bank on the island of Antigua.
The case is USA v. Stanford et al, U.S. District Court for the Southern District of Texas, No. 09r-00342.
(Reporting by Anna Driver; Editing by Steve Orlofsky)