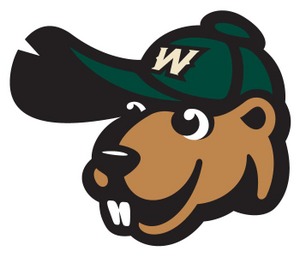 WAUSAU, Wis (Woodchucks-WSAU) The Wisconsin Woodchucks topped the previously second place Green Bay Bullfrogs Monday evening at Athletic Park 7-2. The 'Chucks had a solid night in all facets of the game as they moved into second place with the workmanlike victory. Jon Moscot (1-1) took the lead to advance the 'Chucks to 18-10, while Riley Tincher's (5-3) loss had the Bullfrogs fall to 18-11.
Woodchucks' starter Cory Hall sailed through the first three innings and faced only one batter over the minimum. Hall would get some run support in the bottom of the third frame, as the 'Chucks would strike first with four runs.
Brian Sharp, Robbie De La Cruz, and Kevin Pillar led off the inning with three consecutive singles to load the bases with nobody out. Rob Lind would follow with a bloop RBI single, before Travis Whitmore would promptly groundout to second base- but get an RBI as De La Cruz would come across to score. Following a Pat Terry fielders choice, Chris Amezquita would reach on an error, scoring two runs and collecting a rare error earned RBI to make the score 4-0.
Cory Hall would run into trouble with one out in the top of the fourth, as he'd allow two walks and two singles to load the bases and score a run. Hall would then give way in a then 4-1 game to Jon Moscot. Moscot would swiftly strikeout his first batter, before barely skimming the sleeve of Ryan Kehl on a 0-1 pitch to score a run.
Moscot would go on to retire 11 consecutive batters and earn his first win in dominating fashion. Moscot's final line would end to the tune of 5.2 innings pitched, 1 allowed hit, one base on balls, and 6 strikeouts.
Kevin Pillar chipped in a solo homer, while Pat Terry and Robbie De La Cruz would mash respective RBI's in the bottom of the eighth inning to make the score 7-2.
Following a Woodchucks win and a Madison Mallards victory, a three way tie has emerged in the all-important overall standings between the Mallards, Woodchucks, and Bullfrogs- with the Loggers one game behind the three. While the Woodchucks now hold the tiebreaker over the Bullfrogs, the Mallards have a tiebreaker over the Woodchucks, so every game remains crucial down the home stretch.
The 'Chucks take the road for the final time Tuesday night, as they travel to Green Bay to finish the season series with the Bullfrogs. The game is on Fox Sports 1390 at 6:30pm.