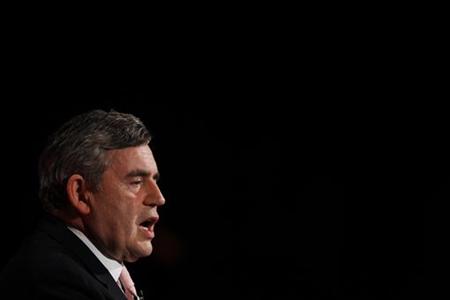 By Estelle Shirbon
LONDON (Reuters) - British Prime Minister Gordon Brown on Tuesday launched a month-long election campaign likely to be dominated by the economy and shaping up to be the most unpredictable contest since 1992.
Standing outside his Downing Street residence in spring sunshine, with his cabinet arrayed behind him, Brown ended weeks of shadow boxing by confirming the May 6 election date, just a month before the last possible time for the vote.
"It's probably the least well-kept secret of recent years but the queen has kindly agreed to the dissolution of parliament and a general election will take place on May 6," Brown said, starting his bid to extend his Labour Party's 13-year grip on power.
The opposition Conservatives lead center-left Labour in opinion polls, but the outcome is far from certain as public support for both main parties remains volatile and the opposition faces a big challenge in securing power.
"I don't have a lot of faith in either of the main parties," said insurance worker Kevin Fisher, 50, in the town of Crawley, south of London, where Labour defeated the Conservatives by just 37 votes at the last election in 2005.
Opinion polls point to a hung parliament, one in which no party has an overall majority, because support for the center-right Conservatives is concentrated in fewer of the 650 parliamentary constituencies.
BUDGET DEFICIT
An inconclusive election result is rare in Britain and is the worst-case scenario for financial markets, which want a clear outcome and firm action to tackle a budget deficit running at almost 12 percent of gross domestic product.
The pound fell against the dollar on Tuesday, dragged down by political uncertainty.
"Sterling will now be at the whim of the opinion polls until the election on May 6. Polls showing no clear Conservative majority will be seen as negative for the pound," said Michael Hewson, an analyst at CMC Markets.
Conservative leader David Cameron, addressing supporters on the banks of the River Thames opposite parliament, called it the most important election for a generation.
"You don't have to put up with another five years of Gordon Brown," said Cameron, 43, a former public relations executive.
How to manage an economy slowly emerging from the worst recession since World War Two is likely to be the central theme of the campaign, entwined with issues such as how to manage public services on tight budgets.
The Conservatives promise to cut the deficit harder and faster than Labour but have also pledged to exempt most workers from a payroll tax rise Labour plans for next year.
Brown, 59, who served as finance minister for a decade before replacing Tony Blair as prime minister in mid-term in 2007, said the recovery was too fragile to be entrusted to the Conservatives.
"Britain is on the road to recovery and nothing we do should put that recovery at risk," he said.
EXPENSES SCANDAL
With the exception of Labour's landslide victory in 1997, no party has secured more than a 5-percent swing in the national vote at a general election since 1950. The Conservatives require a swing of 6.9 percent for outright victory.
The outgoing parliament has been tarnished by a scandal over members' expenses. One hundred and forty-five members of parliament -- just over a fifth of the total -- are standing down, many with reputations harmed by the scandal.
"The economy is the number one issue, but the aftermath of the expenses scandal still scars the political landscape. It has an impact on things like turnout and the performance of minor parties, which is going to be crucial," said Andrew Hawkins of pollster ComRes.
The smaller opposition Liberal Democratic Party could play a pivotal role if neither of the big parties wins a majority.
The new parliament would meet on May 18, the government said. That is later than usual to give new members of parliament more time to prepare for their career change. It would also allow longer for bargaining if no party wins a majority.
Adding spice to the campaign will be Britain's first live television debates -- between Brown, Cameron and Liberal Democrat leader Nick Clegg.
(Additional reporting by Sumeet Desai, Caroline Copley and Mohammed Abbas; Editing by Jodie Ginsberg and Andrew Dobbie)