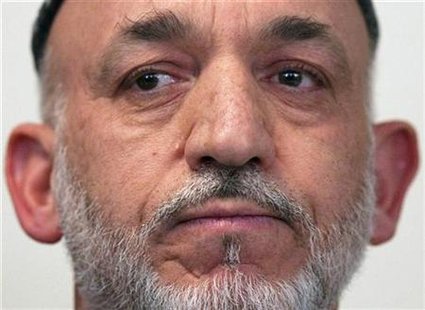 By Susan Cornwell
WASHINGTON (Reuters) - U.S. Senator John Kerry on Monday challenged the image of Afghan President Hamid Karzai as a corrupt, weak leader, saying he was a patriot who understood there must be changes among his ministers.
Kerry's defense of Karzai, in a speech on the war in Afghanistan, contrasted with recent comments by U.S. officials, who have expressed frustration at what they see as the Afghan leader's refusal to tackle corruption.
"The fact is that this man, I believe, is a patriot ... He has a commitment to this," said Kerry, who returned last week from Afghanistan where he helped convince Karzai to participate in a run-off election.
The Massachusetts Democratic who chairs the Senate Foreign Relations Committee, said it was essential to address the problem of corrupt officials "at every level of government" in Afghanistan.
But, in answer to a question at the Council on Foreign Relations in Washington, Kerry said nobody had produced any evidence to support allegations that Karzai's half-brother has been linked to the drugs trade.
Kerry recalled that during a walk with Karzai in Kabul they had a "direct conversation" about Karzai's half-brother, Ahmad Wali Karzai.
"I have requested from our intelligence sources and law enforcement folks the smoking gun, the evidence ... Nobody has (produced it)," Kerry said of the allegations.
Karzai understood the need for changes among his government ministers so services could be better delivered, Kerry said, but the Afghan president could not be expected to announce who he was "moving out" until the election was over.
U.S. officials have expressed reservations about whether a counter-insurgency strategy focused on winning over the Afghan population can work if the people do not see Karzai's government as legitimate.
During a visit to Kabul in August by U.S. envoy Richard Holbrooke, officials said he angered Karzai by warning that Washington would make the fight against corruption a central focus after the August election.
Kerry's personal diplomacy is credited with helping to persuade a reluctant Karzai to agree last week to the presidential run-off election on November 7, after a U.N.-backed fraud investigation was launched into the August vote.
Karzai is expected to win the second round against challenger Abdullah Abdullah, largely because of strong support among fellow Pashtuns, Afghanistan's largest ethnic group.
The run-off takes place as President Barack Obama reviews U.S. strategy in Afghanistan and is considering whether to send thousands more U.S. troops to fight a war that is increasingly unpopular with the American public.
(Editing by Sue Pleming and Chris Wilson))