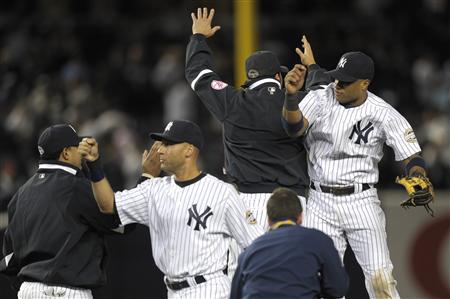 By Larry Fine
NEW YORK (Reuters) - The first postseason game at the new Yankee Stadium was an opening night smash, triggered by captain Derek Jeter, who brought the New York crowd alive in a 7-2 victory over the Minnesota Twins on Wednesday.
"It felt just like the old place," said Jeter, who brought a crowd of 49,464 to their feet with a two-run blast in the third inning that tied the game 2-2 and was the first postseason home run hit in the team's $1.5 billion home.
"I don't think it makes a difference with the venue," Jeter said, addressing concerns the new stadium would not hold the same mystique or generate the same thunderous noise as the old park where the team won 26 World Series titles.
"It's all about our fans. We have the same fans whether we're here or across the street."
Starter CC Sabathia noticed them after Jeter's homer.
"The place got loud," the big left-hander said. "It just made me want to go out there and get three quick outs and try to get these guys back in the dugout and score more runs."
The victory also erased some painful postseason memories for Sabathia and slugger Alex Rodriguez, while it allowed the Yankees to get off on the right foot after failing to make the playoffs last season. They had qualified the previous 13 years.
Winning pitcher Sabathia, who joined the Yankees after signing a seven-year, $161 million contract, entered the game with a 7.92 career earned run average in playoffs.
"When I signed, this is what you come here for. To have a chance to win. It was electric. It felt good. I had a lot of fun out there."
The big left-hander struck out eight and did not walk a batter before leaving in the seventh.
Rodriguez, meanwhile, ended an 0-for-19 drought with runners in scoring position in postseason play and singled home runs in the fifth and the seventh.
Hideki Matsui's two-run homer into Monument Park beyond the center-field wall also brought a huge smile from Sabathia.
"I probably had 30 starts. He's probably hit a home run in 25 of them," said Sabathia. "He has been great every time I pitch."
Jeter said it was an enjoyable start to the postseason.
"We did a lot of good things today. Our pitching staff starting with CC, our bullpen was good. Mo (Mariano Rivera) closed it out.
"We swung the bats well. We hit a couple of home runs. We couldn't have drawn it up any better."
(Editing by Greg Stutchbury)