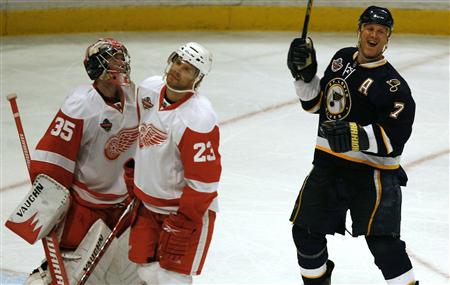 STOCKHOLM (Reuters) - Veteran Keith Tkachuk produced two goals and one assist to lead the St Louis Blues to a 5-3 win over the Detroit Red Wings in the Globe Arena on Saturday.
"It's great to go home with two wins. I'm just happy to contribute," the 37-year-old winger told the television channel TV6 after the Blues made it two victories on successive nights in the season-opening series in Sweden.
"They are the team you measure yourself against and they're the best team in the Western Conference so every time you beat them is a great win."
Last season St Louis won only one of its six meetings with Detroit.
Having been 2-0 and 3-2 down, St Louis rallied for the second night running.
The Wings, Stanley Cup runners-up last season, made a flying start with a deflected goal by Swede Tomas Holmstrom after 31 seconds before Dan Cleary made it 2-0 at 2:08.
"We didn't start off very good but the score (after the opening period) could have been a lot worse. Our goalie kept us in it," said Tkachuk.
The winger tallied for the first time at 18:27 and then set up Andy McDonald on a powerplay at 23:47 for a backhand that brought St Louis back to 2-2.
SLAP SHOT
Swede Niklas Kronwall scored for Detroit with a slap shot at 27:29 but Brad Boyes leveled at 33:24 with a wrist shot.
Thirteen seconds later a slap shot by Patrik Berglund handed St Louis the lead.
Tkachuk wrapped up victory with his second goal on a third-period powerplay after assists by Erik Johnson and Paul Kariya.
"It's a heavy loss and reminds us a lot of yesterday's game," said Detroit captain Nicklas Lidstrom referring to his team's 4-3 defeat on Friday.
"It's frustrating because we were conducting most of the game (but) we have not yet reached the highest level that we can get to during 60 minutes."
(Writing by Oliver Grassman, editing by Tony Jimenez)