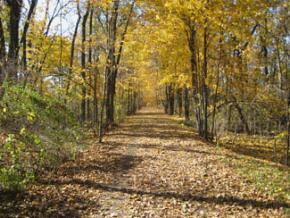 KALAMAZOO -- The latest stretch of the network of bike and hiking trailways that interconnects parts of the Kalamazoo Community with other trail networks was opened today.
The Kalamazoo River Valley Trail runs for 2 miles with a trailhead at Verberg Park at Paterson and Riverview, where there is parking, an information kiosk and a separate bridge for trail users over the Kalamazoo River.
It heads to Mosel, where the next step will be to extend the trail to Markin Glen Park and the Nature Center.
Kyle Lewis says eventually they want it to become an intercity system, linking the Portage Bicentennial Park and The Battle Creek Linear Park with the Kal-Haven Trail thru Kalamazoo. Hikers and bikers can take in the scenery and not worry about getting hit by a car or a bus.