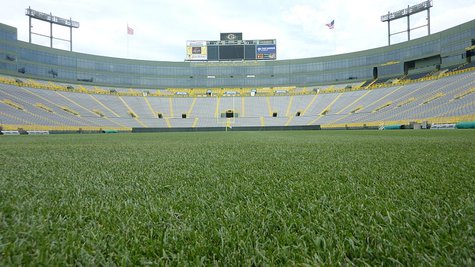 GREEN BAY, Wis (WSAU) The Packers grinded out a sloppy Monday Night Football win, beating the Baltimore Ravens 27-14 at Lambeau Field.
The Ravens offense, which was kept scoreless in the first half, scored two quick touchdowns off Packers turnovers to make the game close. Leading 17-0 in the third quarter, Donald Driver fumbled after making a 3rd-down reception. 7 plays later the Ravens scored on a 12-yard touchdown pass from John Flacco to Kelley Washington. On the Packers next possession, Aaron Rodgers threw a freak interception that bounced off the knee of Donald Driver and was caught by Baltimore's Jarrett Johnson. Baltimore cut the lead to 17-14 on a 1-yard touchdown run by Willis McGehee on the drive that followed.
But the Packers re-established control of the game by mounting a scoring drive of their own, capitalizing on Raven turnovers.
Early in the 4th quarter, Rodgers threw a 19-yard touchdown pass to Jermichael Finley, putting the Packers up by two scores. A Mason Crosby 32-yard field goal completed the scoring.
The Ravens had two more opportunities to get back into the game. Baltimore drove to the 1-yard-line on a pass interference penalty, but failed to score. The Packers defense held on two goal-line plays, and then Tremon Williams intercepted Flacco on an ill-advised cross-body pass into the end zone.
Another Ravens drive was also snuffed out by A.J. Hawke's interception in the middle of the fourth quarter. Baltimore committed five turnovers. The Packers turned the ball over twice, leading to both the of the Raven's touchdowns.
The game was filled with penalties. The Ravens were flagged 12 times. 6 were for pass interference. 5 resulted in Packers 1st downs. A 6th offensive interference call wiped out a big pass reception. The Packers were penalized 11 times, including two interference calls in the end zone. One was converted for a touchdown.
The Packers have won four-in-a-row. At 8-4, the Packers control their own destiny for a wildcard birth. They play the Bears in Chicago next week.