« back to Movies
Jerusalem 3D
Release Date: None
Genres: Documentary
Cast: Benedict Cumberbatch
Directors: Daniel Ferguson
Official Site: http://www.jerusalemthemovie.com/
Distributor: National Geographic Entertainment
This film takes audiences on an inspiring and eye-opening tour of one of the world's oldest and most enigmatic cities. Destroyed and rebuilt countless times over 5,000 years, Jerusalem's enduring appeal remains a mystery. What made it so important to so many different cultures? How did it become the center of the world for three major religions? Why does it still matter to us?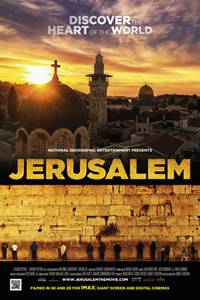 Show Times / Buy Tickets
There are no current showings for Jerusalem 3D in this area.