« back to Movies
Approaching Midnight
Release Date: None
Genres: Drama, Romance
Cast: Jana Kramer, Sam Logan Khaleghi, Brandon T. Jackson, Mia Serafino
Directors: Sam Logan Khaleghi
Distributor: Monterey Media
This film is a gripping action-crime-drama that follows young Army staff sergeant Wesley Kent's return to his small town after being wounded in the war in Afghanistan. Coping with burying his best friend from the war, he must now endure the news of the death of his girlfriend Aspen who passed away in a car accident while he was away. Seeking information about her accident, his unanswered questions grow as he begins to uncover a web of mysterious circumstances and possible corruption and greed that may lead all the way to Aspen's father, the town's Mayor, and his run for Governor.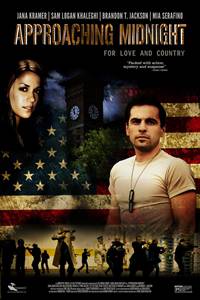 Show Times / Buy Tickets
There are no current showings for Approaching Midnight in this area.