« back to Movies
What Maisie Knew
Release Date: None
Genres: Drama
Cast: Julianne Moore, Alexander Skarsgard, Steve Coogan, Onata Aprile, Emma Holzer, Diana García, Stephen Mailer, Joel Garland, Samantha Buck, Gil O'Brien
Directors: Scott McGehee, David Siegel
Official Site: http://www.whatmaisieknew.com
Distributor: Millenium Entertainment
A contemporary reimagining of Henry James' novel, WHAT MAISIE KNEW tells the story of a captivating little girl's struggle for grace in the midst of her parents' bitter custody battle. Told through the eyes of the title's heroine, Maisie navigates this ever-widening turmoil with a six-year-old's innocence, charm and generosity of spirit.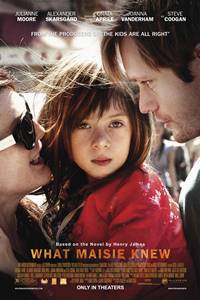 Show Times / Buy Tickets
There are no current showings for What Maisie Knew in this area.