« back to Movies
Camp
Release Date: None
Genres: Drama
Cast: Grace Johnston, Miles Elliot, Asante Jones, Matthew Jacob Wayne, Michael Mattera
Directors: Jacob Roebuck
Official Site: http://www.facebook.com/campmovie
Distributor: Freestyle Releasing
Eli's life is nightmare. His mother is a drug addict who neglects his care, and his transient father floats in and out of his life. Eli is filled with rage from the physical abuse he has received from his father but he longs for his love and approval. On his 10th birthday Eli is taken to the hospital by police who respond to a domestic disturbance call. Eli is removed from his home and is placed in Locustwood, a facility little better than a youth prison. In this environment Eli spirals downward, becoming an angry and scared creature.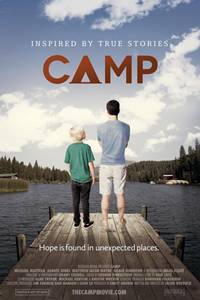 Show Times / Buy Tickets
There are no current showings for Camp in this area.