« back to Movies
EXHIBITION: Manet: Portraying Life
Release Date: None
Genres: Program
Official Site: http://www.exhibitiononscreen.com/
Distributor: NCM Fathom
The eagerly awaited exhibition at the Royal Academy of Arts, London, Manet: Portraying Life will be captured for cinema screens worldwide. This is the first ever major exhibition in the UK devoted to the portraiture of Édouard Manet, spanning his entire career. The exhibition will bring together great works from across Europe, Asia and the USA. Cinemagoers will see exclusive behind-the-scenes moments of the Royal Academy's exhibition preparation -- moments usually hidden from view -- and experience a detailed, superbly crafted biography of Manet and 19th century Paris. Host Tim Marlow along with expert guests examines the work of one of the all-time great artists.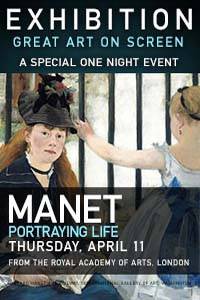 Show Times / Buy Tickets
There are no current showings for EXHIBITION: Manet: Portraying Life in this area.