« back to Movies
Upside Down
Release Date: None
Genres: Drama, Romance
Cast: Kirsten Dunst, Jim Sturgess, Jayne Heitmeyer, Neil Napier, Larry Day, John Maclaren, Heidi Hawkins, Don Jordan, Agnieshka Wnorowska
Directors: Juan Diego Solanas
Official Site: http://www.upsidedown-movie.com/
Distributor: Millenium Entertainment
Ever since Adam and Eden fell in love as teens, their bond has faced astronomical odds. The pair are separated not just by social class and a political system bent on keeping them apart, but also by a freak planetary condition: they live on twinned worlds with gravities that pull in opposite directions - he on the poverty-stricken planet below, she on the wealthy, exploitative world above. Their budding but illicit romance screeches to a tragic halt when interplanetary-border patrol agents catch them and Eden suffers an apparently fatal fall. But when, ten years later, Adam learns she is alive and working at a vast corporation whose towering headquarters connects their planets, he sets out on a dangerous quest to infiltrate the company and the upper world to reconnect with her.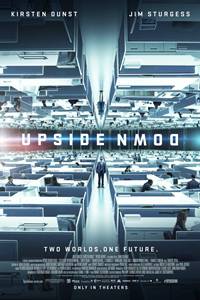 Show Times / Buy Tickets
There are no current showings for Upside Down in this area.