« back to Movies
Cosmopolis
Release Date: None
Genres: Drama
Cast: Robert Pattinson, Juliette Binoche, Sarah Gadon, Mathieu Amalric, Jay Baruchel, Kevil Durand, Samantha Morton, Emily Hampshire, Patricia McKenzie, Paul Giamatti
Directors: David Cronenberg
Official Site: http://cosmopolis-movie.com/
Distributor: Entertainment One
New York City, not-too-distant-future: Eric Packer, a 28 year-old finance golden boy dreaming of living in a civilization ahead of this one, watches a dark shadow cast over the firmament of the Wall Street galaxy, of which he is the uncontested king. As he is chauffeured across midtown Manhattan to get a haircut at his father's old barber, his anxious eyes are glued to the yuan's exchange rate: it is mounting against all expectations, destroying Eric's bet against it. Eric Packer is losing his empire with every tick of the clock. Meanwhile, an eruption of wild activity unfolds in the city's streets. Petrified as the threats of the real world infringe upon his cloud of virtual convictions, his paranoia intensifies during the course of his 24-hour cross-town odyssey.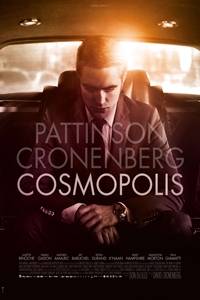 Show Times / Buy Tickets
There are no current showings for Cosmopolis in this area.