« back to Movies
The Metropolitan Opera: Rigoletto
Release Date: None
Genres: Musical, Program
Cast: Piotr Beczala, Zeljko Lucic, Diana Damaru
Directors: Michael Mayer, Michele Mariotti
Distributor: NCM/Fathom
Director Michael Mayer has placed his new production of Verdi's towering tragedy in Las Vegas in 1960 --ideal setting for this eternal conflict of depravity and innocence. In this production, inspired by the antics of the Rat Pack, Piotr Beczala is the womanizing Duke of Mantua, with Zejko Lucic as his tragic sidekick, Rigoletto. Diana Damrau is Rigoletto's daughter -- their victim. Michele Mariotti conducts.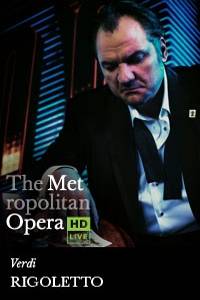 Show Times / Buy Tickets
There are no current showings for The Metropolitan Opera: Rigoletto in this area.