« back to Movies
For Greater Glory
Release Date: None
Genres: Drama, War
Cast: Andy Garcia, Eva Longoria, Peter O'Toole, Oscar Isaac, Santiago Cabrera, Catalina Sandino Morena, Bruce Greenwood, Ruben Blades, Nestor Campbell, Karyme Lozano
Directors: Dean Wright
Official Site: http://forgreaterglory.com/
Distributor: ARC Entertainment
What price would you pay for freedom? An impassioned group of men and women each make the decision to risk it all for family, faith and the very future of their country. The long-hidden, true story of the 1920s Cristero War - the daring people's revolt that rocked 20th Century North America.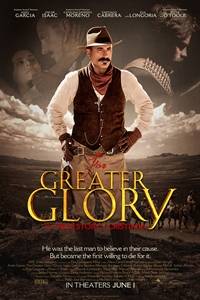 Show Times / Buy Tickets
There are no current showings for For Greater Glory in this area.