« back to Movies
A Thousand Words
Release Date: March 9, 2012
Genres: Comedy, Drama
Cast: Eddie Murphy, Allison Janney, Clark Duke, Jordan-Claire Green, Philip Pavel, Eshaya Draper, Jackie Geary, Mitchell Fink, Edi Patterson, Rob Evors
Directors: Brian Robbins
Official Site: http://www.thousandwordsmovie.com/
Distributor: Paramount Pictures
Fast-talking agent Jack's insincere patter is his chief weapon, but it irritates his assistant Aaron, threatens his marriage to Caroline and gets him into trouble repping guru/author Dr. Sinja. Jack suffers karmic repercussions from Sinja's magical Bodhi tree, which sheds one leaf for each word Jack speaks. After one thousand words, Jack will die.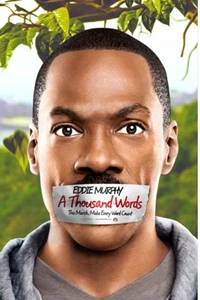 Show Times / Buy Tickets
There are no current showings for A Thousand Words in this area.