« back to Movies
Barnyard: The Original Party Animals
Release Date: Aug. 4, 2006
Genres: Animation, Comedy, Family
Cast: Kevin James, Courteney Cox Arquette, Danny Glover, Sam Elliott, Andie MacDowell, Wanda Sykes
Directors: Steve Oedekerk
Official Site: http://www.barnyardmovie.com/
Distributor: Paramount Pictures
"Barnyard" is a lighthearted tale centering around Otis, a carefree party cow, who enjoys singing, dancing and playing tricks on humans. Unlike his father Ben, the respected patriarch of the farm, and Miles, the wise old mule, Otis is unconcerned about keeping the animals' humanlike talents a secret. But when suddenly put in the position of responsibility, the "udderly" irresponsible cow finds the courage to be a leader.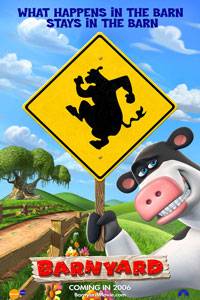 Show Times / Buy Tickets
There are no current showings for Barnyard: The Original Party Animals in this area.