Michigan Ag Now
Michigan Agriculture Now Media Hub
Where farming & technology meet with photos, videos, texting and the latest blog posts!
Latest Tweets @michiganagnow
Tweets about "michiganagnow"
Your #HashTag Instagram Photos
Want to see your photo on this page? Just tag your photos #MichAgNow when you post them to Instagram. If you don't have Instagram on your mobile device, just download it for free from Google Play or iTunes App Store.
Latest Videos
Text Updates
Michigan Agriculture Now is hooking you up with all the latest breaking news and events in farming in your area.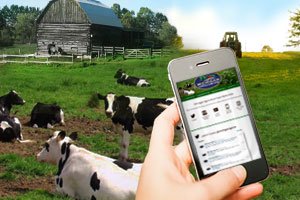 To receive alerts from Michigan Agriculture Now Text FARM to 80373.
*Message & data rates may apply. Text STOP to quit. Text HELP for help or call 877.571.0774 for support. To opt-out of alerts, text KEYWORD and STOP to 80373 (Ex. STOPWEATHER). Subscribers will receive no more than twenty messages per week when subscribing to any of our Alerts or Offers. No purchase necessary. Marketing text messages will be delivered to the phone number you provide at opt-in.
Approved carriers for texting 80373 are: Verizon Wireless, T-Mobile, Sprint/Nextel/Boost, AT&T, U.S. Cellular, Cellcom and Element Mobile. Sprint users may need to call their customer service representative to have the short code functionality activated on their cell phones. For questions or support, please call 877.571.0774.
The Latest From The Blog
Farm Director Rick Shields and our staff of writers from across the Midwest will be providing you great kernels of information on everything from seed to feed, from commodity news to sustainability, livestock, crops and more.
Fri, sep 19 2014 - 4:09 p.m.

Photo credit: bluekdesign from morguefile.com It's safe to say that the goal of most every business owner is to build their business and then pass it down to their children. Farming, of course, is no different. A Farm ...

Tue, aug 19 2014 - 11:11 a.m.

I've always loved the advice from the Old Farmers Almanac, "sooner begun, sooner done." I have taken great pains to quote it often enough to my children that I'm certain they will not only remember it, but tell ...

Sat, aug 16 2014 - 4:07 p.m.

You may have heard the expressions "too many cooks in the kitchen" or "too many irons in the fire," but the Professional Dairy Producers of Wisconsin want to also remind you not to have too many cows in the pen ...