This annual event serves as the kickoff to the holiday season in Downtown Kalamazoo and the entire community.
The event features giant balloons, along with nearly 90 community organizations, businesses, and bands, including the Western Michigan University Bronco Marching Band, sponsored by Discover Kalamazoo. The parade, a program of DKA Charities, is presented by Maple Hill Auto Group with support from WKZO – Midwest Communications and Kalamazoo Valley Museum. Balloon Sponsors include: Educational Community Credit Union, Bronson Healthcare Group, Midwest Radio Group (WVFM, WKZO, The Touch) and Meijer. This parade would not be possible without the support of these specific mentioned organizations that help defray the cost of this very important community event.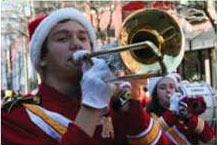 The parade is a yearly tradition. Organizations, businesses, schools and colleges participate by hosting holiday community floats, marching bands, clowns, and other entertaining parade units. The parade is highlighted with the addition of almost five giant size character balloons that literally fill the street. Some of these balloon characters have included: Felix the Cat, Theodore the Toy Soldier, Bob the Builder, Garfield and Friends, the Holiday Christmas Tree, the Candy Cane, and a whole lot more! Public Media Network will televise the Kalamazoo Holiday Parade live (typically on Channel 21). And as the tradition holds true, Santa is always the grand finale.
PARADE ROUTE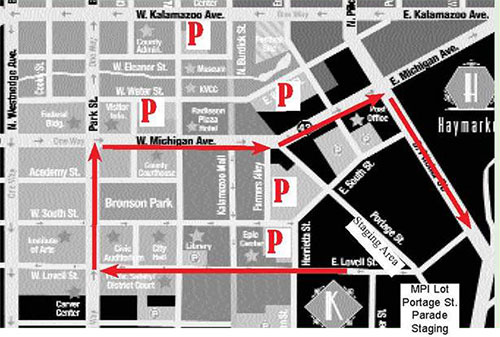 Kalamazoo Holiday Parade steps of at 11am on November 10th featuring...
100 parade entries including 30 floats
5 giant balloons
10 marching bangs, including WMU Bronco Marching Band
Kalamazoo Department of Public Saftey
Large Trucks
Live Broadcast on PMN Channel 95
The route for the parade is Lovell Street West to Park Street, North on Park to Michigan Avenue, East on Michigan Avenue to Pitcher, South East to Lovell Street.
FOOD DRIVE
Loaves and Fishes invites you to bring canned food items to the parade. Just prior to the parade, look for Meijer food carts pushed by volunteers.
Here are some of the items needed:
Canned Goods
Peanut Butter
Hearty Soups
Canned Veggies
Canned Fruit
Please NO glass or bags that can get crushed
AFTER THE PARADE ACTIVITIES
After the parade, on the Kalamazoo Mall, Kalamazoo Department of Public Safety will have several specialty vehicles on site for tours, enjoy a Kiddie Ferris Wheel, inflatables, arts and crafts, and other family friendly things to do. See link below for more info.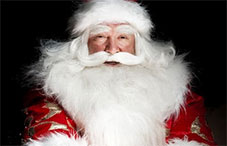 Noon to 2pm
Kiddie Ferris Wheel ($1 charge)
Duck Pond ($1 charge)
Dance Performance by Academy of Dance
Explore KDPS Vehicles
Arts and Crafts
Visit with Santa & Mrs. Claus
At the Kalamazoo Valley Musuem, from 12 - 4pm, live entertainment, craft-time that includes holiday ornaments, and a special Santa suite display.
NEW TYPE OF CHARACTER BALLONS: GOING GREEN!
The Kalamazoo Holiday Parade is "Going Green" this year, with a change from featuring helium balloons to cold air character balloons. The change has been forced by a national shortage of helium, and its scarcity, as it is mostly reserved today for the medical field. Consequently, what helium is available is exorbitantly expensive. The balloons that will be featured in the 2012 parade will be just as large as previous years, but instead of flying units, they will be pulled on wheeled platforms - same size, bigger-than-life fun characters.