Bacon Wrapped Scallop Lollipops with Orange Sauce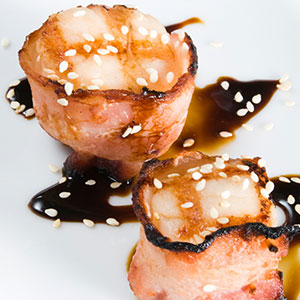 Ingredients
12 slices of bacon
12 U10 sea scallops
12 six-inch bamboo skewers
2 tablespoons extra virgin olive oil
1 cup orange juice
2 tablespoons low sodium soy sauce
2 tablespoons unsalted butter
salt, pepper to taste
Preparation
In a small sauce pot, reduce the orange juice for 15 to 20 minutes (or by half). Add in the soy sauce, and then swirl in the butter. Set aside and keep warm.
In a preheated 350 degree oven, place slices of bacon on a parchment paper-lined baking sheet. Bake until the edges turn golden brown, but remain pliable (about 12 to 15 minutes). Remove from oven, set aside and let cool.
Preheat sauté pan on medium-high, and add oil.
Season the scallops on both sides with salt and pepper. Wrap each scallop with 1 piece of bacon, securing it through the middle with a skewer. Repeat with all scallops.
Place scallop lollipops into sauté pan and cook through and golden brown on both sides (about 3 minutes per side).
Transfer onto a serving dish; brush both sides with the orange sauce. Pour remaining sauce into bowl and serve on the side.